October 21, 2016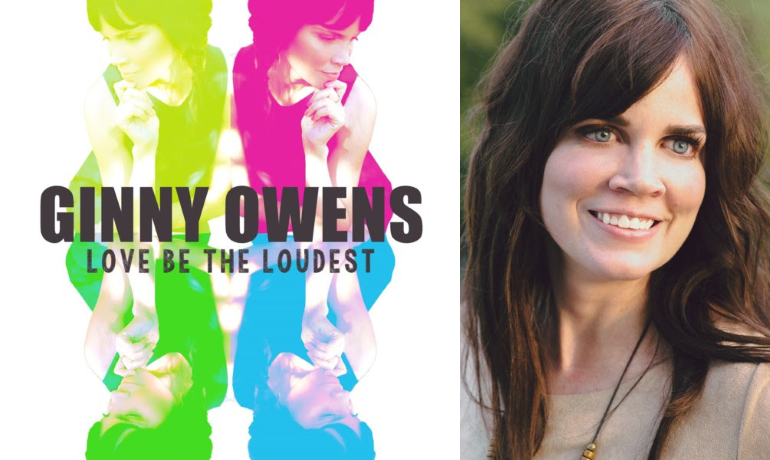 Award-winning singer-songwriter Ginny Owens releases her ninth studio album, Love Be The Loudest, Nov. 18 on her indie label, Chick Power Music, with The Fuel Music distribution. Prior to the release, two brand new Apple Music and Spotify SuperSingle tracks from the album, the reimagined version of Owens' No. 1 hit song "If You Want Me To" and "The Loudest Voice," will be available beginning today (Oct. 21). The full pre-order of the album is to begin Nov. 4.
After more than a million albums sold, a trio of Dove Awards and career-defining No. 1 hit singles like the aforementioned track and "Free," Owens could have settled on her substantial laurels and coasted through this next season as a sought-after recording artist and songwriter. But she knew God was calling her to be bold, so she set out to design an album that would reflect current music trends while inspiring listeners to put feet to their faith.
"Most people think my greatest life challenge is blindness; I've been blind since age three. But that simply isn't true," says Owens. "My greatest challenge is doing battle with the critical voices of my own perfectionism, others' doubt and our culture's values in my head; they distract me from what's most important …Every song on this album is an invitation to my heart, and the heart of the listener, to allow God's perfect voice of love and truth to be irresistible to our hearts, drowning out all other voices, and moving us to action."
"I want to challenge myself and those who listen to find ways to give away the love God is endlessly pouring into us," continues Owens. "One practical way for me to give is to donate a portion of sales to support the meaningful work of organizations that touch lives with God's love."
Working for the first time with well-known producers Rusty Varenkamp (TobyMac, MIKESCHAIR, Jason Gray), Chad Copelin (Ben Rector, All Sons & Daughters) and Josh Bronleewe (We Are Messengers, Natalie Grant), Owens' Love Be The Loudest moves into new musical territory, combining her signature, thoughtfully-crafted lyrics with pop and electronic dance music.
"I'm a pop music junkie," Owens admits, "so it's fun getting to embrace those sounds. I can't believe I haven't jumped into that space before now."
Collaborating with several artists who lent their vocals to the project, including Big Daddy Weave's Mike Weaver on "The Way God Sees," Ellie Holcomb on "Love Looks Beautiful," Meredith Andrews on "How Much More" and All Sons & Daughters on "God Is Love," Owens shares: "There is no cliché or half-hearted lyric here. Only vulnerability and honesty. God has clearly spoken to me that I don't have time to waste. Every word and every moment has to have a purpose."
Offering a newfound vulnerability most evident on "The Fire," a song she says is "probably the most significant song on the record," Owens reveals that this track was born out of her recent struggle with vocal challenges and a benign tumor that resulted in ongoing health issues.
"We meet God in our suffering and either learn to trust Him or turn our hearts away from Him," she asserts. "As I cried out to God with fear and uncertainty, He gave me more of Himself. And as my trust grew, I didn't need to have the answers anymore."
Other featured songs on the album include the cascading "Coming Alive" and call to action "Go Be Light" along with the SuperSingle track, "The Loudest Voice," which sparked the album's title and urges listeners to drown out noise and listen to God. The album also includes the reimagined version of Owens' hit song, "Wonderful Wonder," which features Andrew Greer, and "Made for Loving You (featuring Andrew Bergthold)."
"We live in a world that doesn't make sense. What's right is wrong; what's important is devalued," notes Owens. "My prayer is that these songs will inspire listeners to walk with the hope and courage given us by God."