August 05, 2015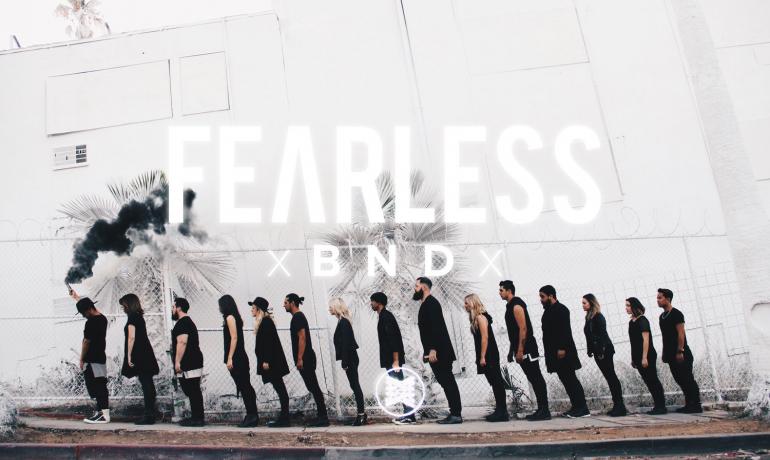 LOS ANGELES, CA -- On September 4, 2015, FEARLESS BND will be releasing the new single "Brighter." This is the first single to be released in their once-a-month structure, and the first since rebranding from their previous identity as groundbreaking modern worship outfit Worth Dying For.
FEARLESS BND, the sound of worship at Fearless LA, is launching a 'loaves and fishes' approach to creating new music for the church. The sole purpose is to equip and empower pastors and worship leaders with songs, media, video, graphics, sermon/song notes, tutorials and more. One innovative, congregationally ready media package at a time, every first Friday of the month.
"Instead of releasing an entire album all at once," says Sean Loche, associate pastor at Fearless LA, "this approach gives us the ability to stay current and evolve as the music evolves, and it allows us to get material into churches/hands more quickly. Our goal is to release each single on the first Friday of every month, along with lyric videos, loops, promotional material and high-level graphics, sermons, notes—everything we use in our church—with the hope of making it easier for local pastors and worship leaders."
"Brighter," a pulsating club-mix anthem, embodies the energy and passion heard on any given Sunday at Fearless LA, which meets in the No. 1 nightclub in the U.S. "We have church in a nightclub, with lights everywhere, a disco ball above us, three huge LED screens and crazy graphics," Christy Johnson says, "and it's pretty awesome seeing the transformation that happens when people worship in that room. The same place where people are dancing all weekend, we're lifting up the name of Jesus, and he's changing lives through encounter with him."
When lead pastor Jeremy and Christy Johnson moved to Los Angeles 3.5 years ago to start a new church, the former youth pastors and worship artists known collectively as Worth Dying For gave up everything they knew to make one giant leap of faith.
"Fear had been something we'd both battled with our entire lives," Jeremy says, "and yet we felt called to the dreamers, to those crushed by their dreams, to those chasing their dreams, those with dead dreams, to people who had moved to LA from all over the world to pursue the arts, entertainment, education, entrepreneurship—to not just be a safe haven, but a dream factory, helping broken people dare to dream again."
Trying to come up with a name for the church that would encapsulate both its radical and positive foundation, the couple started digging around for inspiration. And then they saw it: "A scared world needs a fearless church." —A.W. Tozer.
And so the church-planting season began, migrating from seven different locations—nightclubs, studios and warehouses, at a bonfire on the beach, in a coffee shop, an old garage and eventually back to a nightclub. And as the dreamers came in droves to see this new "church," what had been true in their Worth Dying For days was no less true in the City of Angels: when you give people their own words to sing to God, something that reflects what's happening in their lives right now, God does something explosive with it.
The stories behind the songs of FEARLESS BND —as the story of Fearless LA itself—reflect a move of God, not born of glitz and glam and achieving acclaim in a city full of stars, but born out of encounter with grace. "We're seeing so many people getting saved, finding new life and new birth in this place. Their world is being revolutionized, so they're writing from that struggle, fighting for the dreams in their hearts," says Jeremy, who has seen nightclub staff, security guards and club patrons encounter the truth of Jesus at Fearless LA.
"At the end of the day," he says of FEARLESS BND's mission, "it's the words that impact us. Where two or more agree around truth, it's truth shifts the atmosphere and opens hearts."
That, Jeremy says, is the driving passion behind FEARLESS BND, to share the gifts God has given this church in the land of broken dreams with worship pastors and leaders around the world, equipping them to lead with power and excellence in today's content and media-saturated culture.
Source:
Nashville Publicity Group