September 23, 2013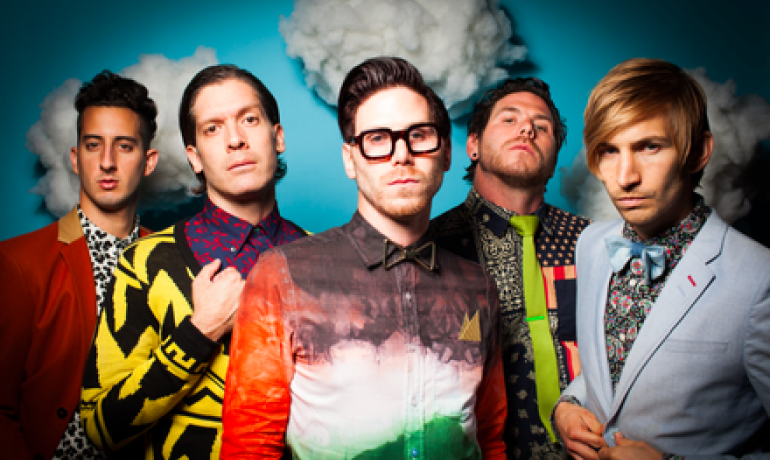 NASHVILLE, TENN. - Family Force 5 has a devoted fan base that has faithfully followed the band for the last eight years. Throughout its career, the band has established itself as a successful artist, independently selling more than 250,000 units. Today marks a new chapter for Family Force 5 as the band shares a personal letter with its fans announcing the line-up change from frontman Solomon Olds to his brother (previously the drummer) Jacob Olds.
The band also announces new drummer Teddy Boldt to take Jacob's place as he transitions into the role as frontman for Family Force 5.  Rest assured, FF5 is working on its fourth studio album to release in 2014, and Solomon will continue to help co-write with the band as he takes time to be at home pursuing other creative roles. He performed his last show as lead vocalist on Saturday in Shippensburg, PA.
As a family that has played together and prayed together for countless years, we know that our fans expect Family Force 5 to continuously evolve.  It is out of respect to that encouraging sentiment that we will be making changes in the line-up of Family Force 5.  As of today, Solomon will be coming off the road, and Jacob will be transitioning into the position of lead singer.
Our family, inclusive of our fans, has been blessed by the adventure of making music and performing globally for the last 8 years, and this development is a continuation of that journey: one that finds tremendous growth and change.  Solomon will remain within arms reach, as he takes time to be at home with his wife and son, while also pursuing his creative ambitions of co-writing and remixing.  In addition, he will continue to be a part of FF5's songwriting team, as we are daily creating new material that could potentially blow up your stereo speakers.
Throughout the last several months, the five of us have been in Los Angeles writing and recording some of our best music to date, and we are thrilled to be moving toward the release of our fourth studio recording in early 2014.  We are also proud to welcome our talented new drummer Teddy Boldt into the fold, and we look forward to hearing all of your remarks about his impressive drumming skills and his extraordinarily colorful suits.  The new lineup has been hard at work in a sweaty rehearsal space, woodshedding in preparation of elevating the live show to levels that we previously considered impossible.  Prepare yourself for dueling drum-beats and space-boot leans as we uncover the fun-loving, reinvigorated version of Family Force 5 that will make you remember why you fell in love with the band in the first place.
Thank you for everything, and we look forward to getting cray with each and every one of you.
Family Force 5