February 27, 2014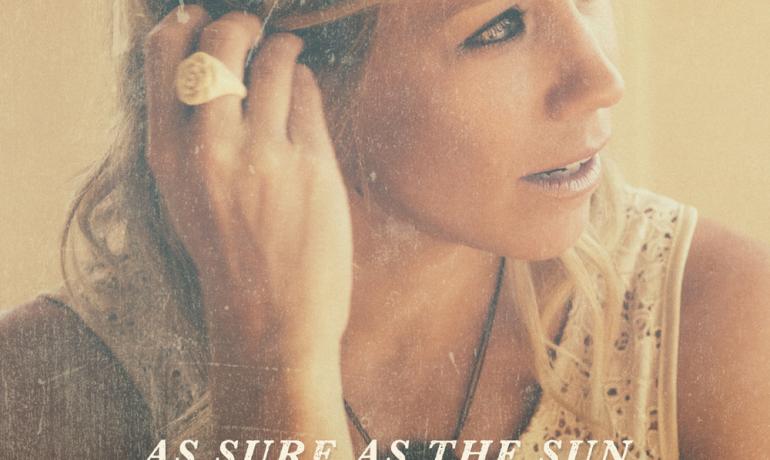 Nashville, Tenn – Last week, singer and songwriter Ellie Holcomb released her solo debut to huge acclaim. Sitting nicely at No. 8 on iTunes' Overall album chart and No. 1 on its Christian chart along with topping the Christian genre at Amazon in its first week, As Sure As The Sun has now found itself at No. 34 on the Billboard Top 200 album chart and No. 2 on Billboard's Christian album chart with sales of over 10,000 units at press time.
The first radio single, "The Broken Beautiful," has climbed to No. 3 on the New and Active at the National Audience Chart and No. 4 New and Active at AC Indicator, and continues to be added to stations across the country.
As Sure As The Sun (Full Heart Music), which was produced by Brown Bannister and Ben Shive, also continues to receive high critical acclaim and media coverage. The album has been touted as one of the top records of the year and a "must-have" album in everyone's music library. A recent review in the Examiner sums it up well, stating, "Holcomb sings her honest, vulnerable thoughts to God...There's innocence about her love songs to Jesus that is refreshing in an age when Christian artists seem to be trying too hard to sound overly worldy."
Even Holcomb's peers were spreading the news about the album's release, letting their friends and followers know about the album's release. Support towards As Sure As The Sun came from artists such as Amy Grant, Bart Millard, Bo Rinehart (NEEDTOBREATHE), Crowder, Kari Jobe, and Natalie Grant to name just a few, as well as The Bachelor's Emily Maynard, each encouraging everyone to go buy this album!  
HOLCOMB & KICKSTARTER: Setting out in November with a Kickstarter campaign to garner support for the making of her album, Holcomb set a goal of $40,000 to be raised in 50 days. That goal was met in just three short days and Holcomb ended up raising over $108,000 with 1,756 backers. This highly successful Kickstarter campaign placed her 4th overall top Christian Kickstarter Campaign as well as placing in the Top 30 Most Funded Kickstarter Music campaigns of all time.  
MORE ABOUT ELLIE HOLCOMB: This Nashville native is a seasoned artist as well as a wife and a mother and a former schoolteacher. For the past seven years, she's been part of her husband's band, Drew Holcomb and The Neighbors. Last December she was the special guest on Andrew Peterson's annual "Behold The Lamb of God" Christmas Tour and is appearing at various venues and festivals across the U.S. this year, such as KLTY's Celebrate Freedom and AtlantaFest. Holcomb will appear on six tour dates this fall with Crowder.
As Sure As The Sun is the follow up to her two EP's With You Now and Magnolia and features eleven songs written by Holcomb, each carefully woven with scripture into the lyrics. Encouraged by her husband to record her own music, Holcomb's hope with her new collection of songs is that they will be reminders of truth by refreshing, encouraging, and blessing all who hear them.