September 23, 2016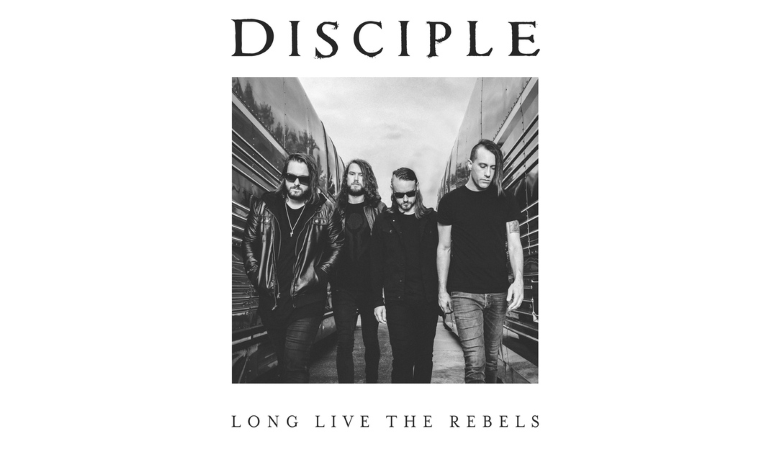 Nashville, TN - Two-time Dove Award winning Disciple is a staple in the Christian hard rock scene. Known for it's unique blend of faith with intense yet accessible music, the band has forged a deeply connected fan base along the way. Now, after a massively successful Kickstarter campaign, the band is poised to release its 13th studio album, LONG LIVE THE REBELS, on October 14 in partnership with Tooth & Nail / BEC Recordings.
Lead singer Kevin Young explains the heart behind the album, "In the body of Christ every part is important, and every part is powerful. Music is one of those powerful forces that God uses to change the world, one life at a time. When we started Disciple we wanted to play music that would impact people's lives, and that mission has never been stronger than it is today. And while the world goes their way, we are the rebels who will walk the other way. We want to be the rebels who will change the world."
Just two short years ago, the band experienced a rebirth with a new line-up and a new commitment to its craft. Calling themselves "Disciple 3.0", Young, Andrew Stanton (lead guitar), Josiah Prince (rhythm guitar) and Joey West (drums) chose to step away from the label system and chart their own course as independent artists. With the making of LONG LIVE THE REBELS, Disciple took another leap of faith, appealing once again to their fans via Kickstarter to fund the album. In just 6 days, the fans fulfilled the campaign goal to create LONG LIVE THE REBELS, ultimately committing nearly $130,000 to back the project, more than 200% of the initial goal.
This outpouring allowed the band to enlist the production talents of Aaron Sprinkle (Anberlin, Thousand Foot Krutch, Jeremy Camp), who immediately felt like a fifth member of the band. "This album came from a great place. Obviously were are overwhelmed by the support of our fans and what that has enabled us to do. From day one, we were all very comfortable in the studio, and Aaron helped us take good songs and turn them into great songs," Young explains. "A great producer is like a coach who helps get the best out of each person. LONG LIVE THE REBELS has a fresh, new feel and well represents who we are as a band."
Fan support also enabled the band to prepare a substantial release team for the album, partnering with Tooth & Nail Records / BEC Recordings for radio, marketing, and distribution support. First single, "God Is With Us" is poised to impact radio on October 24, and the track exemplifies the band's focus: reminding listeners of their worth and sharing the promise that the words of others cannot stand against the truths of God. "Worth is what people are willing to pay for something,' states Young. 'We are so valuable to God that he paid for us with his Son. Because of this, the words of others have no power. God bought me and I know what I'm worth to him."
End of Silence Tour9/23 – San Antonio, TX
9/24 – Dallas, TX
9/25 – Houston, TX
9/28 – Omaha, NE
9/30 – Valparaiso, IN
10/1 – Columbus, OH
10/5 – Nashville, TN
10/7 – Cecil, GA
10/8 – Jacksonville, FL
10/14 – Knoxville, TN
10/15 – Wilmington, NC
10/16 – Charlotte, NC
10/21 – Cleveland, OH
10/22 – Columbia, MD
10/23 – Asbury Park, NJ
10/24 – New York, NY
10/27 – Lancaster, PA
10/28 – Pittsburgh, PA
10/29 – Battle Creek, MI
10/30 – Cincinnati, OH
11/1 – Grand Rapids, MI
11/2 – Detroit, MI
11/3 – Louisville, KY
11/4 – Bloomington, IL