October 11, 2016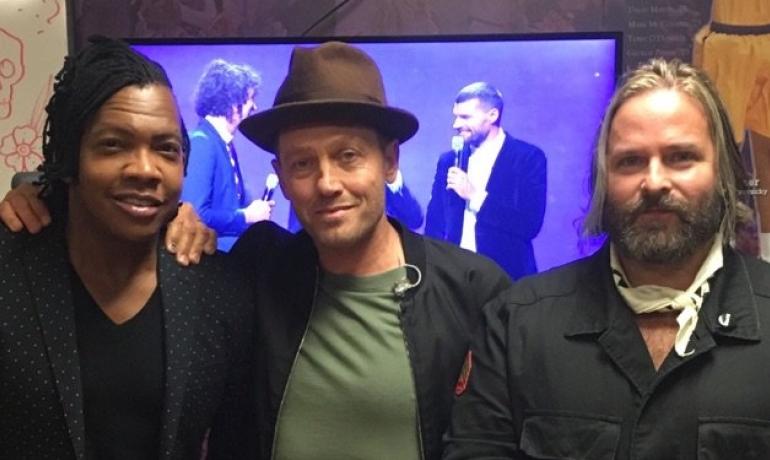 Nashville, TN: There was a buzz among artists traveling the red carpet at the Gospel Music Association's 47th annual Dove Awards Tuesday night that Christian music superstar TobyMac's performance would be something unforgettable.
And they were right.
For the first time in more than a decade, TobyMac got the band back together, as he, Michael Tait (currently of Newsboys) and Kevin Max reunited as dcTalk, performing the song "Love Feels Like" live to an astonished crowd.
Toby's set began with a shortened version of his current single "Til The Day I Die" before the lights went down. A video played, with Toby talking about dcTalk and his heart behind "Love Feels Like," the song from his 2015 release, This Is Not A Test.
Then, Toby began the song, and was gradually joined onstage by his dcTalk bandmates. The crowd at Lipscomb University's Allen Arena rose to their feet and responded loudly and enthusiastically, to say the least.
"Did that just happen? Did we really just witness the dcTalk reunion at the Dove Awards?" asked the ecstatic presenter following the performance at the awards.
DcTalk is recognized as one of Christian music's most successful and pioneering acts, having dominated the industry during the 1990s before going on an indefinite "intermission" in the early 2000s. The Grammy-winning trio went on to pursue solo endeavors, which included the emergence of TobyMac, Tait replacing Peter Furler as frontman of Newsboys, and for a time, Max fronting a revived Audio Adrenaline.
The performance comes as the latest sign of new life for the band, following news in the spring that dcTalk would reunite for the Jesus Freak Cruise next summer. No additional reunion plans have been announced past the cruise, however, if the Dove Awards performance was any indication, it's impossible to know just what the group may have up its sleeve.