October 11, 2019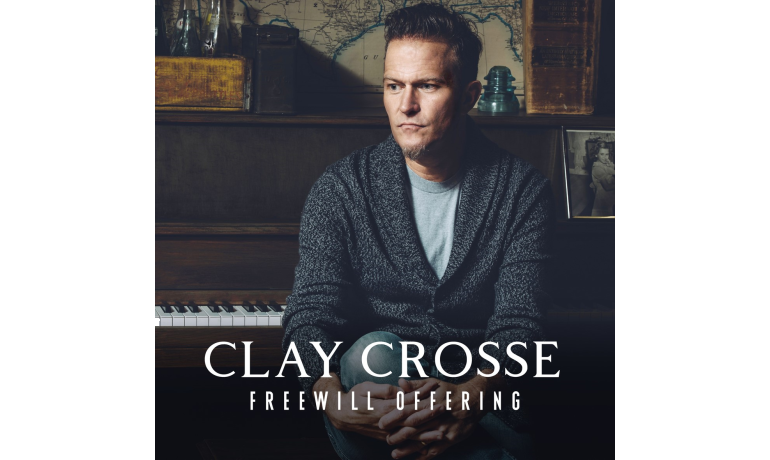 Springdale, Arkansas - Freewill Offering, a new EP from Contemporary Christian recording artist Clay Crosse is being released today. The new collection of music from the Dove Award winner includes the hit radio single "Streets of Capernaum," which received airplay at more than 900 radio outlets throughout the world.
Sean Hill at Uphill Studios produced the project, which includes five songs, the majority written by Crosse, including "Psalm 148," "Streets of Capernaum" and "A Thousand Hills." The EP is rounded out with "God of Every Moment," written by Hill and Kevin Winebarger, and "I Will Trust in You." "I Will Trust in You," written by Alan Thomas, Jonathan Smith, and Klayton Seyler," has also been popular at Christian radio, with airplay at more than 700 radio outlets worldwide.
Freewill Offering is available today on iTunes, Apple Music, Spotify, and all other digital music platforms.
Crosse, a veteran Contemporary Christian music artist, has released 10 albums during his career and received four Dove Awards. The musician released his first album, "My Place is With You," in 1994, which yielded the chart-topping single "I Surrender All." That same year, Crosse was named "New Artist of the Year" by the Gospel Music Association. Nine singles, including "I Surrender All," He Walked a Mile" and "Saving the World," have been No. 1 hits for Crosse. He also collaborated with Bob Carlisle and BeBe Winans on "I Will Follow Christ," which won a Dove Award for "Inspirational Song of the Year."
In recent years, Crosse has served as worship pastor for local churches. First, he served at The Love of Christ Community Church in his hometown of Memphis, Tennessee, with senior pastor, the late Dana Key (of the Christian Rock group DeGarmo and Key). After that he served at Faith Baptist Church in Arlington, Tennessee. Since 2013 he has served as full-time worship pastor at First Baptist Church, Bentonville, Arkansas
Crosse continues to sing and lead worship at events nationwide. In addition to his music career, Crosse and his wife, Renee, lead their ministry, HolyHomes, and speak at marriage events nationwide. Clay and Renee Crosse, married since 1990, have four children.