November 08, 2019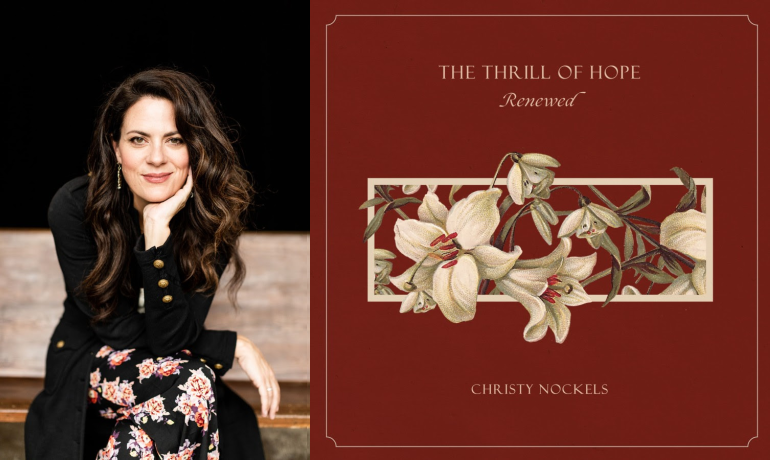 Three-time GMA Dove Award-winning worship leader, singer-songwriter Christy Nockels announces the release of The Thrill of Hope Renewed on Keeper's Branch Records with global distribution through The Fuel Music. Available now at iTunes, Apple Music, Amazon Music, Spotify, Google Play, Pandora and more digital retail and streaming outlets everywhere through https://the-fuel-music.lnk.to/thrillofhoperenewed, the 15-track Christmas album includes both classics and original songs that share the hope we have in Jesus; that He has come and that He's here with us now.
Produced by her husband, Nathan Nockels (Passion, Matt Redman, Laura Story), this new offering is based on Christy's acclaimed debut Christmas album The Thrill of Hope (2016) that has been nearly completely re-recorded. While favorite "Advent Hymn" was a plaintive piano vocal, it is now a full band arrangement that MultiTracks.com, a resource for worship leaders, will be featuring this season. The classic "O Come O Come Emmanuel" and original "Our Christmas Song" have similarly been completely recrafted.
Christy also shares her personal story behind her song "Amaryllis" on the album and will release her "Amaryllis Story" video on YouTube today. Receiving a potted amaryllis bulb from her sister-in-law, Christy learned that the Amaryllis plant blooms in the bleakness of winter, conditions that are counter-intuitive to new life – much like Jesus' arrival on Christmas.
"He certainly didn't arrive when conditions were perfect," reflects Christy. "In fact, He arrived in the midst of a silence in a winter that the world had never known and just when we thought we'd never see spring, heaven gave a King. He surprised the night. When we least expected it, His love broke through and He shined, pushing through the hardness of winter on our behalf.
"He has and always will be new life," she continues. "And that very life he offers to us, that no matter how dark and bleak our condition may be, like Him, we too can bloom with the brilliance of summer right in the middle of winter."
Steeped in scriptural references from Isaiah, Genesis, Micah and more, The Thrill of Hope Renewed further includes the new song "Is He Worthy / The King is Coming." A blend of Andrew Peterson's "Is He Worthy" and Nockels' "The King Is Coming" prelude on her original Christmas release, the new recording now serves as the album's postlude.
Another standout track, "Make Good Your Christmas Day," which was a line out of "Our Christmas Song" on the last record, has been turned into a full-length song. The track became a sweet family affair as the Nockels' children, Elliana and Annie Rose, joined mom to sing the song.