October 12, 2016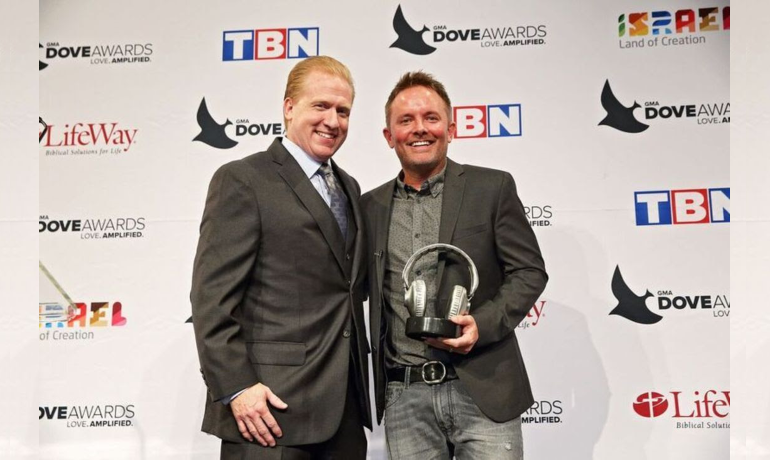 Nashville, Tenn.: SoundExchange yesterday awarded GRAMMY® winner Chris Tomlin its prestigious Digital Radio Award in recognition of his incredible popularity on digital radio.
Tomlin has amassed more than one billion performances on the more than 2,800 digital radio services from which SoundExchange collects digital performance royalties. SoundExchange President and CEO Michael Huppe presented Tomlin with the award on October 11 during the 47th Annual Gospel Music Association (GMA) Dove Awards, which honor performers in Christian and gospel music.
"Chris is a fantastic artist with a massive following, and we couldn't be more proud to honor him with our SoundExchange Digital Radio Award," Huppe said. "We were also honored to bestow this award upon Chris during the GMA's Dove Awards, which are so important to the Christian and gospel artists and fans globally."
"I'm incredibly grateful and humbled to receive SoundExchange's Digital Radio Award," Tomlin said. "I'm blown away by how many people are listening to Christian music, and this award is an affirmation of the power and impact of the genre."
Only recording artists who are registered members of SoundExchange and have at least one billion streams are eligible to receive the SoundExchange Digital Radio Award. Justin Timberlake, Garth Brooks and Pitbull are the only others to have received the award.
The Dove Awards took place on Tuesday, October 11 at Lipscomb University's Allen Arena in Nashville at 6:30 p.m. (CST). Trinity Broadcasting Network (TBN) will exclusively broadcast the awards show on Sunday, October 16, at 7 p.m. (PST).
Tomlin recently released his debut children's book Good Good Father, which hit top 16 overall books on Amazon and top 20 of all books at Barnes & Noble. His 11th studio album Never Lose Sight features the popular single "Jesus" and No. 1 hit "Good Good Father" and will be available October 21. Shortly after on October 25, Tomlin's one night only unity event Worship Night In America: An Evening Of Unity & Prayer For Our Country will hit theaters and churches across the US.