March 27, 2014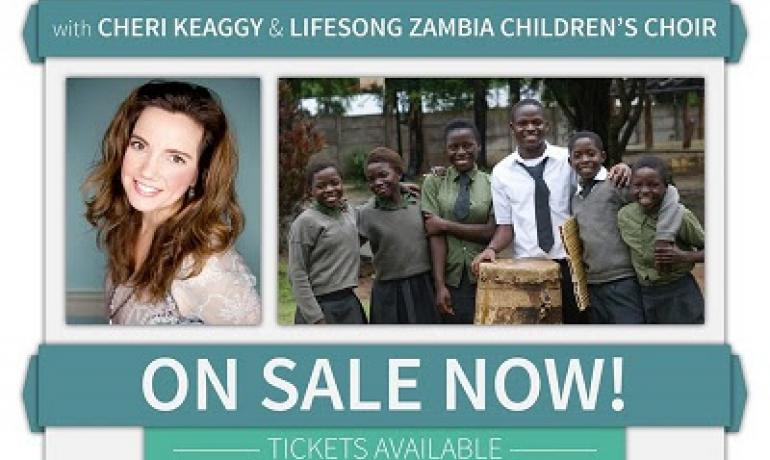 NASHVILLE, Tenn. - Dove Award-winning singer/songwriter Cheri Keaggy will partnerwith Lifesong for Orphans for Celebrate Life, a series of benefit concerts featuring Keaggy and the Zambia Children's Choir. Proceeds from the concerts, which kick off April 26 in Houston, will be used to care for orphans and their needs.
 
"Honestly, I'm humbled to be partnering with Lifesong for Orphans this Spring," says Keaggy. "I go out and minister and certainly God uses it in a big way, but these folks are the true heroes of the faith, looking after orphans in their distress as Scripture commands."
 
Keaggy, who will perform songs from her current CD, So I Can Tell, as well as earlier hits from her career, will be joined onstage by the Zambia Children's Choir. The six children from Lifesong's school in Kitwe, Zambia, will sing traditional Zambian songs and will join Keaggy for several songs.  
 
Tour dates are: 
April 26: First Presbyterian, Houston, Tx.
April 27: First United Methodist Mansfield, Mansfield, Tx.
May 3: Morris Area School Concert Hall, Morris, Minn.
May 4: Westmoor Country Club, Brookfield, Wis. (by invitation only)
May 10: Relevant Church, Tampa, Fla. (Julianna Zobrist performs; Cheri Keaggy will not be at this date)
May 11: Mosaic Church, Orlando, Fla.
May 17: Private Residence, Montgomery, Ala. (by invitation only)
May 18: First Bible Church Madison Campus, Madison, Ala.
Tickets may be purchased online or at the door. To purchase tickets online, visit lifesongfororphans.org/celebrate-life.
Keaggy's association with Lifesong for Orphans began several years ago when the non-profit used her song, "What Matters Most," for a promotional video. After attending a concert last year in Nashville, Keaggy was approached about joining the tour this year.
  
"This is an important work, an eternal work," says Keaggy. "I'm excited to see the great things God is going to do in our midst."
 
For more information about Lifesong for Orphans and/or the tour, visit lifesongfororphans.org.