April 25, 2016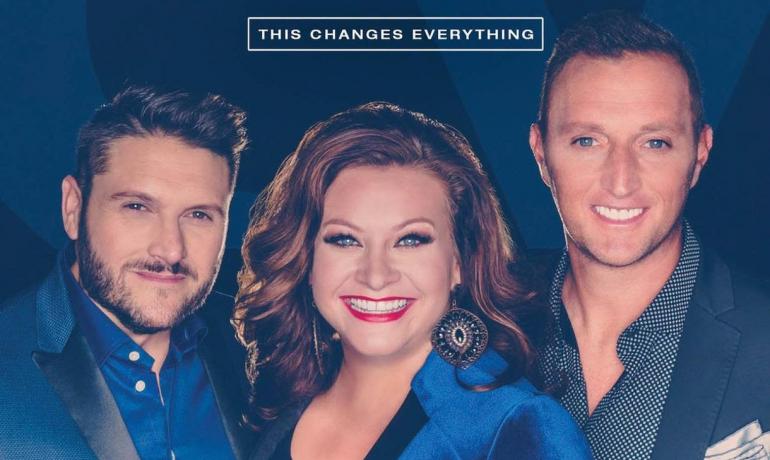 Nashville, TN: The highly-anticipated debut project from new group, Cana's Voice, will release May 27, 2016 on StowTown Records.This Changes Everything showcases the talent of three exceptional singers, Jody McBrayer, formerly of Avalon; powerhouse vocalist TaRanda Greene and Doug Anderson, previous member of Signature Sound. Produced by Dove award-winning producer, Wayne Haun, the new album features 13 songs that offer hope to the hopeless, and especially to those who are on the edge of giving up on God, Christianity and the church. Some of the industry's top songwriters contributed to the record that include Haun, CeCe Winans, Joel Lindsey, Tommy Sims and Marcus Hummon. The first single, "Jesus Never Fails" is currently going for adds at radio. This Changes Everything brings all of these artists back into a group setting that will further their already stellar music careers.
Jody McBrayer is a founding member of Avalon who toured and recorded with the multi-award winning group for 12 years, racking up 21 No. 1 songs and selling over 4-million records. TaRanda Greene has gained national attention through high-profile appearances with the Grammy Awards winning Brooklyn Tabernacle Choir, In Touch Network and Turning Point Ministries, along with singing at the United Nations and some of the largest churches around the world. Doug Anderson has enjoyed an international career, as a founding member of Signature Sound, and has also been a successful solo artist on StowTown Records. He has appeared in countless sold-out concerts, received a Grammy Awards nomination, won 13 Dove Awards, and has an RIAA Gold status album.
The melding of vocals between McBrayer, Greene and Anderson deliver a powerful album of God's continual support and love that reflect the difficulties overcome by these three artists. With a wide variety of songs that range from ballads to up-tempos, the lyrics cover the range of God's life saving grace with "I Won't Go Back" that describes the eternal changes to a Christian's spiritual walk, while "Give It To You" brings a country flavored message of turning over our hopes and fears to God, and the rousing "All My Reasons Are You" that gives full glory to Christ for the reason of living. It's not going to be a surprise that Cana's Voice will have an impact with listeners around the world, since the group's name came from John 2:1-11 where Jesus turned the water into wine at a wedding feast in Cana.
"It only takes a few notes from this trio to know there's something special here. Get ready to be wowed AND blessed," says Haun. "It's hard to believe that Cana's Voice isn't family when you hear them sing. Their blend and harmony is that perfect!"
"What is so significant to the three of us is the vessels Jesus used to create that miracle," Greene explains. "They were broken and old, had fulfilled their purpose and had seen better days, but Jesus used them for a purpose that was even better than the first. As we sang our first note together, we realized God isn't finished with us. Just like those broken vessels, we have been repurposed for such a time as this. We want to carry the gospel to the world with humility, knowing where we've come from, knowing God is guiding our every step; believing in the Heavenly Father to be exactly who He is. We stand as a voice for the broken and wounded, redeemed by the blood of the Lamb for a higher calling. We are Cana's Voice."