February 19, 2015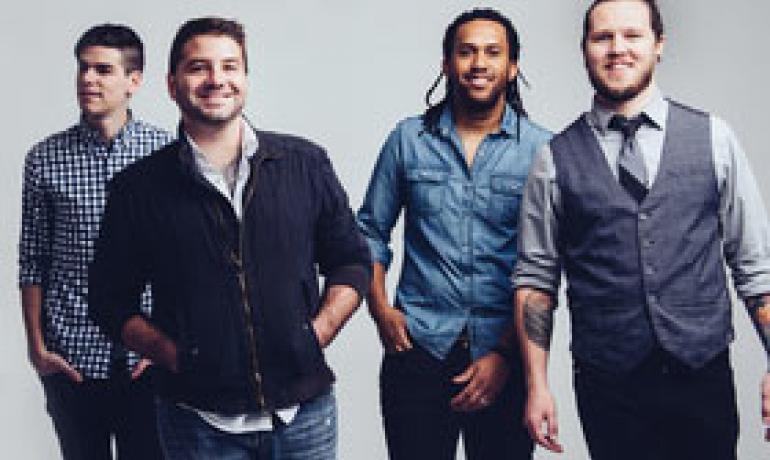 SEATTLE, WA. – BEC Recordings announces the full-length debut from their newest signing Among The Thirsty. Their label debut, Who You Say I Am, will release next month on March 17. This release follows the highly successful radio and digital single, "Completely," which has sold more than 50,000 singles. This album is a personal reflection of a journey of hitting rock-bottom and finding God's gift of desperation there and through grace seeing one's worth to God. Fans can also catch the band perform the hit single along with other new songs live on the Casting Crowns tour this coming week in three different cities: Bloomington, IL (Feb. 26), DeKalb, IL (Feb. 27) and Paducah, KY (Feb. 28).
The poignant ballad and radio single "Completely" is centered on surrender. "It's a powerful song for me, because it [was written out of] my absolute coming to grips with who I was, the things I had done, the people I had hurt, and just having to face myself," frontman Ryan Daniel shares of the season the album was inspired. "That was my moment of absolute rock bottom, when my world [was] collapsing. It was hard to see the good in it."
Reflecting back on that difficult season today, Daniel now recognizes the beauty that resulted in the form of music, which built the framework for the band's forthcoming debut. Although his personal circumstances have yet to reach a full resolution, just like anything worth fighting for, he knows there is joy to be found in the process.
"I feel like God is glorified in every step of the journey," he offers. "Every moment that you experience this life and every day that you're battling whatever you're battling, you're overcoming it. Every day you're doing that, every step, is really where the glory is, and that's where God is [most] glorified." The single has impacted listeners at radio as they have received comments and stories such as the below from fans across the country. Click below to view the newly released music video for the single. "Driving home this morning I was feeling pretty low. 30 years ago today I was involved in an accident where the other driver died. Though it wasn't my fault, it's still a low point in my life. I said a prayer to our Father for comfort and then shortly afterwards this song came on the radio. First time I've heard it. My goodness, isn't God good to us? This song says it all, and took all of my hurt and pain 'Completely' away as well. Thank You Lord!" -Jack (Youtube)
"Three years ago I had everything. Then my own selfishness got in the way. I did some hurtful things, I lost my job, my wife left and took my daughters, my whole life as I knew it walked right out in front of me. I allowed Satan to walk right in and destroy the things God had given me. I have been going through a spiritual war ever since. Then God blessed me and allowed me to hear this song. I was instantly reminded that this life was never created for me. I had been so consumed by my own ambitions that I had forgotten to simply be faithful. That is when I completely surrendered. It's still a daily process, but hopefully He will complete the work that He started in me before I got in His way." - Eric (Youtube)
"I just wanted to tell you that your song 'Completely' touched my soul and brought me to tears. After struggling with my marriage, my selfishness, infidelity, and my thinking I could handle my life, I was humbled by an experience in June that made me surrender. I gave up my control to God and put my life in his hands. I confessed all of my sins to not only Him, but my husband too, and my life has been changing for the better ever since. While I still struggle, I have never felt this happy and hearing your song really touched me because that is what I did in my life. I completely surrendered. Thank you for that song." -Amy (Facebook)