April 11, 2016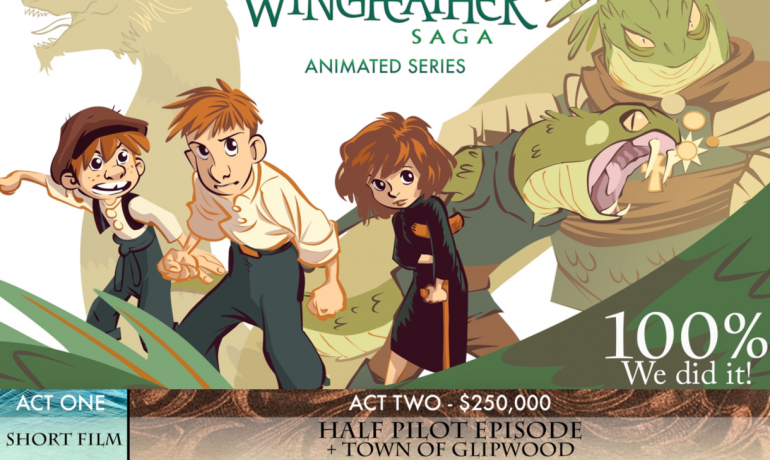 Nashville, TN - Dove nominated singer/songwriter, award-winning author, and now a film production executive, Andrew Peterson, joins his Shining Isle Productions partner Chris Wall in saying a big THANKS to their fans and followers for funding the first production of their new company. Between March 1 and April 5, over 3,000 people donated $265,880—which is $155,000 over the base goal—to bring The Wingfeather Saga: Animated Series to the screen. Backers came from over 10 countries and the initial goal of $110,000 was reached within 48 hours. This landed The Wingfeather Saga in the Top 50 of film and video projects submitted for all Kickstarter campaigns. The film will be a half-pilot episode for the purpose of seeking series distribution.
"I had high hopes for how this Kickstarter campaign would go, but those hopes were far exceeded by the generosity and passion of the fans of these books. Chris and I are grateful beyond words for the chance to tell this story on screen, and to do it right," says Peterson. "As fun as this Kickstarter thing was, the real fun starts now. Chris is chomping at the bit to get the giant animation machine running, and I can't wait to dig into the story."
Producer J. Chris Wall adds, "The response from fans to bring The Wingfeather Saga to the screen through Kickstarter has been amazing. To achieve the funding success and fan support as an independent project speaks volumes to the quality of the stories. The important work Andrew had done in creating the mythology has made the material immediately accessible for a visual adaptation. We're excited to get underway on building the pilot with our talented team of artists."
The Wingfeather Saga series began almost 10 years ago when Peterson began writing On the Edge of the Dark Sea of Darkness, which was published by Waterbrook/Random House in 2008. The second book, North! Or Be Eaten, released in 2009 and won the prestigious 2010 Christy Award for Young Adult Fiction. The third installment, The Monster in the Hollows, released in 2011. The epic tale has become a favorite of families around the world and has been compared to The Chronicles of Narnia, The Lord of the Rings, and Harry Potter.