March 01, 2016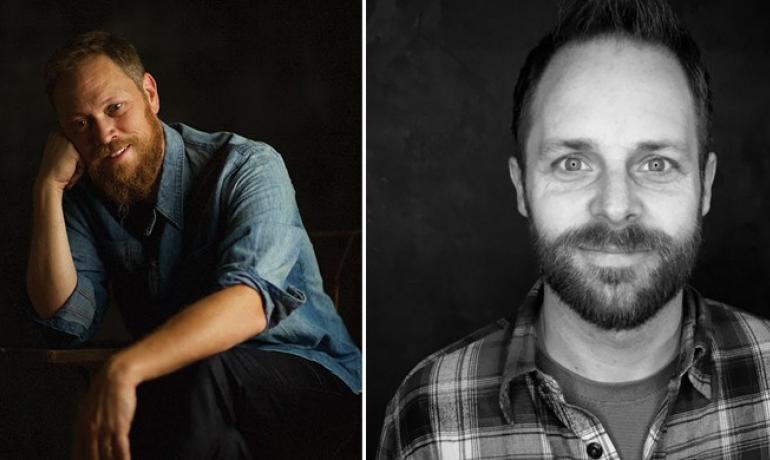 Nashville, TN --- Dove-nominated singer/songwriter and award winning author Andrew Peterson, along with veteran producer J. Chris Wall (VeggieTales), have launched Shining Isle Productions to develop film and television projects. Their first effort will be an animated short film based on Peterson's highly popular and award-winning Wingfeather Saga book series. A Kickstarter campaign will launch March 1st to help create the project.
"When the series was complete, the idea of bringing this story to the screen wouldn't leave me alone. If whatever truth or beauty or goodness is in these books could translate to a wider audience through animation, then I wanted to find a way. I've known Chris for years, and there's no doubt in my mind that he's the man for the job," says Peterson. "Not only does he know the nuts and bolts of animation, but he and his family know and love the Wingfeather Saga. There's no one else I'd rather partner with for Shining Isle Productions. I can't wait to see this story come to life on the screen."
"I couldn't be more excited to work with Andrew to bring the Wingfeather Saga to the screen," adds Wall. "The vibrant characters, epic adventure, and deeply moving story, combined with Andrew's unique wit, made these stories a very engaging experience for our family."
Peterson's first Kickstarter campaign in 2013 saw an incredible response from his loyal fans by raising over $118,000—which was over $100,000 beyond his original goal. The outpouring of support overwhelmed Peterson, who used the funds for his final installment of the Wingfeather Saga, strong>The Warden and the Wolf King. The project won the Clive Staples Award for fiction and was named World Magazine's 2014 Children's Book of the Year.
The Wingfeather Saga series began almost 10 years ago when Peterson began writing On the Edge of the Dark Sea of Darkness, which was published by Waterbrook/Random House in 2008. The second book, North! Or Be Eaten, released in 2009 and won the prestigious 2010 Christy Award for Young Adult Fiction. The third installment, The Monster in the Hollows, released in 2011. The epic tale has become a favorite of families around the world and has been compared to The Chronicles of Narnia,The Lord of the Rings, and Harry Potter.
About Andrew Peterson
Andrew Peterson is a man of many talents with a successful recording and songwriting career, as well as being the award-winning author of the Wingfeather Saga series and the host of a highly popular online creative community called the Rabbit Room (www.RabbitRoom.com). Peterson's new studio album, The Burning Edge of Dawn, released October 2015 and debuted No. 2 on Billboard Current Contemporary Christian Top Albums Chart, his highest charting record to date. Critics have given strong reviews for this project, even naming Peterson as "one of the foremost singer/songwriters around." His previous project, Light for the Lost Boy, also garnered rave reviews hailing the project as "best album of the year," and garnered two 2013 Dove Award nominations. His album, Counting Stars, debuted at #1 on iTunes, and #6 on Billboard. His single, "Dancing in the Minefields," reached the Top 10 on the Christian AC chart, while the video for the song has received well over 1,000,000 views online. In December 2015, Peterson once again delivered sold out crowds and multiple city dates for his highly successful 16th annual Behold the Lamb of God Christmas Tour. For continued updates on Peterson please visit online www.andrew-peterson.com.
About J. Chris Wall
Producer J. Chris Wall is a storyteller at heart. His career in animation began with Max Lucado's You Are Special, followed by producing 20 episodes of 3-2-1 Penguins for NBC/Qubo. Over the last ten years with the wildly successful VeggieTales series, he produced 16 movies, including The Wonderful Wizard of Ha's, Saint Nicholas and Noah's Ark. He lives in Franklin, Tennessee with his wife and 6 children.