September 19, 2016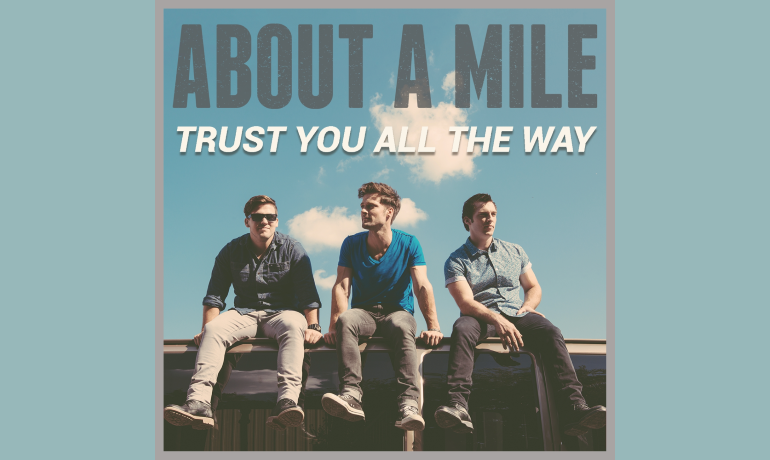 Since launching 2014's biggest-selling Christian album debut from a new artist, Dove Award-nominated About A Mile is taking all the experiences over the last couple years and pouring them into its sophomore album, Trust You All The Way, to be released from Radiate Music Oct. 28.
More than the successes of playing Christian music's biggest stage (Winter Jam) and a bevy of supporters that have fully-funded its PledgeMusic campaign, band members and brothers Adam, Luke and Levi Klutinoty have resolved to trust God with every aspect of their lives and ministry.
Pouring that conviction into their upcoming album, which was produced by Grammy-nominated, two-time Dove Award-winning Producer of the Year, Ian Eskelin (who heads the Radiate Music label and produced the band's debut album), the heart of the band is becoming apparent through their songs, including the Top 25 Billboard Christian Hot AC/CHR National Airplay Chart hit single, "Born To Live," and new radio single, "Trust You All The Way.
"What separates the Christian from the world is one five-letter word: Faith," says Adam, lead vocalist and guitarist. "I'm not talking about faith after the outcome. I'm talking about God-pleasing faith that believes before seeing, and allows us to confidently stand within the hardest of battles. And how do we do this? By falling down on our knees and fighting through fear by boldly praying, 'I trust you all the way!'"
Walking out his faith, Adam is publicly revealing for the first time his bout with drug addiction, lust and more, and how he has received healing and has learned to 'trust God all the way.'
"It's important to us that people see the seriousness in our eyes and hear the honesty in our voices whenever we share the testimony about these songs and this season of our lives," shares Adam. "God has saved us, and I know that no song could be hooky enough to do what the Holy Spirit has been doing when we play 'Trust You All The Way.' People fall down at the altar, confess sin and give their lives to Jesus."
About A Mile, whose name originates from the belief that Jesus carried his cross "about a mile," has carried their message from coast-to-coast. Lauded for their musicianship, authenticity and labeled "musical chemistry perfected" by one critic, the band has hit some of the nation's biggest venues with artists like Skillet, Sidewalk Prophets, DecembeRadio and more.
The band is now taking its new music on the "Trust You All The Way Tour" that launches Oct. 14 in Bluefield, WV before traversing the country through late November. The tour events will be free for anyone to attend. Please consider embedding on your sites this About A Mile video update on the tour: https://youtu.be/5hTGMB_GbmE.