July 13, 2015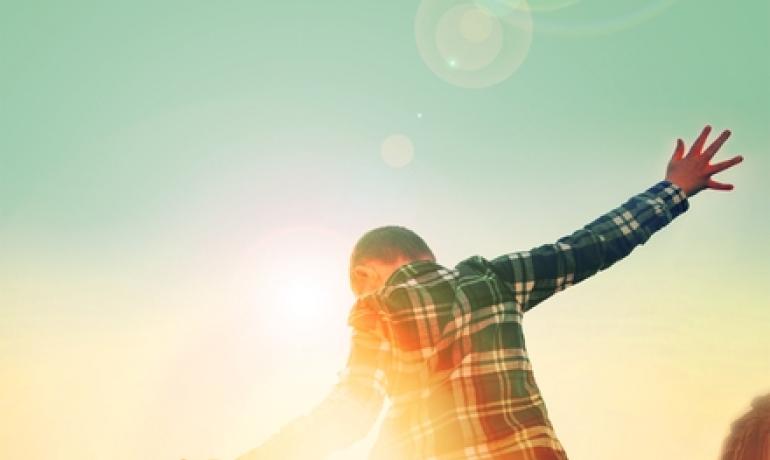 Nashville, Tenn. -- Dove Award-winning artist Aaron Shust will release his new studio album for Centricity Music, Doxology, Friday, August 28th. The project was recorded in Nashville and was produced by the David Crowder Band's renowned drummer, Christian Paschall. The record contains 10 new songs, with eight that were co-written by Shust, including "Nothing More" that features labelmate, Lauren Daigle. The album delivers Shust's signature style of corporate worship in a festive and celebratory frame that honors the good news of the risen Christ. The project will be available at all online music outlets.
The joyous recordings on Doxology reflect the aftermath of the previous four tumultuous years when Shust dealt with the serious health problems of his two youngest sons. Having come through that time with two healthy sons today, Shust is celebrating the promise of God and His faithfulness.
"In the first chapter of Job," Shust explains, "we see that Job was able to worship even in the midst of his grief, but he wasn't ready to celebrate yet. I can relate to that. Four years ago I could worship, even in the midst of suffering, but I wasn't ready to celebrate. It's not that circumstances aren't still hard sometimes. I still have to remind myself that God's promises are true. But having walked through what we've walked through as a family, and having experienced God's comfort and faithfulness in deeper ways than we ever had before, there's an air of celebration and expectancy that wasn't there before."
Doxology was inspired by Shust's current role as Worship Leader for his hometown church in the Pittsburgh, PA area. "I write most of the songs that we sing at my church and many of them reflect a worshiper's heart. A doxology is a liturgy of praise to God, like a short exaltation at the end of a New Testament letter, or a song sung at the end of a church service. These songs are like a playlist for a praise & worship 'after party' at the end of time, around the Throne, celebrating the crowning of Jesus as King of Kings and Lord of Lords."
These songs reflect the diversity, yet the continued joy throughout the record, with the hymn-like "Oh Praise" coming from a writer's retreat where Shust knew it had to be on the new album after hearing it for the first time. "Never Gonna Let Me Go" was co-written with Benji Cowart after the death of Shust's friend. The friend wanted a praise celebration upon his death instead of a sad funeral, so the song is based on John 10:29 that celebrates Christ's victory over death. The upbeat "It Is Finished" was a song title that Shust had been working on for a while, so instead of the tragedy of the crucifixion, the song embraces the declaration that Christ has won.