April 23, 2013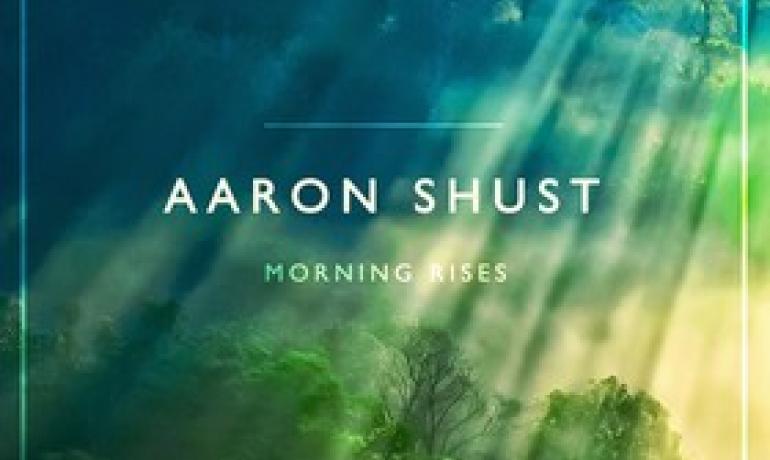 Nashville, TN - Morning Rises, Aaron Shust's second album for Centricity Music, is scheduled to be released July 16, 2013, with "God of Brilliant Lights," the first single from the project, going for adds at radio on April 26th. Acclaimed producer, Ed Cash, helped Shust deliver another very strong and focused project, delivering worship songs that glorify and lift up the name of Christ. The album marks the first time that Shust has used his touring band as the studio musicians, translating into performances that audiences will hear at his concerts across the country. The project is very uplifting, while chronicling some of the tough challenges Shust experienced over the last few months.
"This is an album about how God is faithful. God is steadfast. God is the same," says Shust. "Whenever our life goes crazy we can say, 'God is faithful.' If you believe the verses that we memorized as kids or in our early Christian lives, that He has a plan for us, that He's never going to leave us, that He's never going to forsake us, then that rings true. You need those truths in the dark hours. That's what this album hopefully covers. Morning Rises represents hope. Morning Rises represents promise."
After experiencing the medical tribulations of his second son, Nicky, last year, Shust once again faced life-threatening medical situations with his son, Michael, who was born in January of this year. Facing a heart surgery shortly after he was born, being diagnosed with Down Syndrome, a second surgery for hearing issues and ongoing health issues, the experiences haven't defeated Shust but instead renewed his passion for Christ.
Those emotions and feelings are delivered in the album's eleven songs, with seven being co-written by Shust and the remaining four from other songwriters, which include Hillsong's Cornerstone, the upbeat "God Is For Us," and the beautiful ballad that exalts "No One Higher."   Shust co-wrote his first single, "God of Brilliant Lights," which is a powerful song that extols God's unconditional love that brings us out of darkness. The God of brilliant lights is shining down over us/Breaking through the darkness covering all the earth/His love is like an ocean forever overflowing/The God of brilliant light is shining over us.
Shust's previous album, This Is What We Believe, launched one of the biggest songs of his career with "My Hope Is In You." The single stayed at the top of the AC Monitor chart for 14 weeks during 2011/2012, and was listed at #8 on Billboard magazine's year-end Christian Songs Artist category and #9 for Christian AC Songs Artist. Shust continued to have major impact on the charts in 2012 with his single Risen Today reaching #17 on the AC Indicator chart. His last song, We Are Free peaked at #21 on the AC Monitored chart and #25 on the National Audience chart.